The Masters: Starting the Season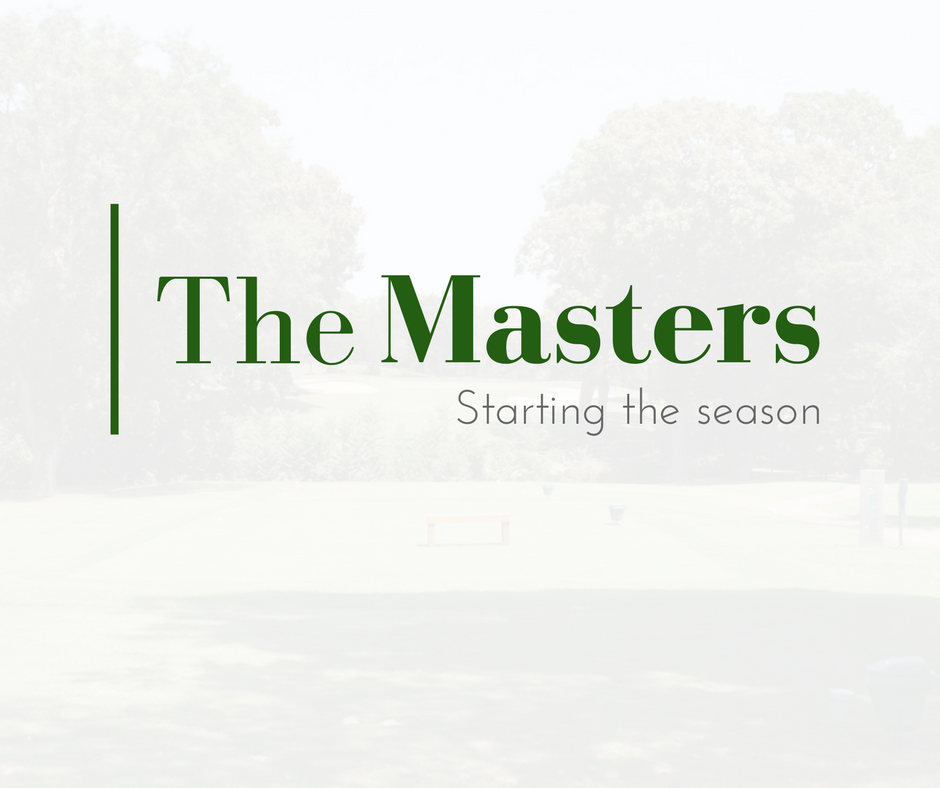 If you're a sports lover, spring time is pretty great. NBA basketball is in it's prime, march madness takes over most of your days, and golf has finally reached it's season. That means you get to watch legends, upsets, and the best golfers in the world dominate the sport. Not only that, but we look forward to watching one of the best and most popular tournaments of the year.
With that comes a few things. Excitement, definitely. But we get to celebrate more than just watching TV; these few months bring some of the best weather we have in Texas. That means we have the opportunity to get outside (before it's 105 degrees) and do some of the things we love. Whether that's walking your dog or playing 18, springtime is truly one of the best times of the year, so we encourage you to get outside and do something you love!
That being said, one of the best excuses to sit in front of your TV or computer for four days straight is the masters. With the "anticipation" commercials starting in January, it's hard to miss the excitement for a great tournament. What to expect? You can never really know. Who would have guessed last year's outcome? Here are a few things to look out for heading into Masters week.
No Tiger Woods?
The last time we saw Tiger, he was pulling out of the Dubai Desert Classic in early February due to back spasms. We haven't heard much since then, but we do know that he is officially out of the Masters.
As for Augusta, you can bet he'll be there - but not in the way that he hopes. He'll go to the champions dinner along with other festivities that come with the Masters, but he won't be competing. What does this mean for the future? Well, we have been trying to figure that out for a couple of years now. But for now, we'll resort back to hearing "I'm just trying to get healthy" from Tiger for the next few months.
How does Jordan Spieth come back from last year?
The whole world felt for Jordan Spieth on sunday of the Masters in 2016. How will he bounce back this year? Needless to say, much of the attention will be on him as he tries to win his second green jacket. There is no doubt that Spieth is still one of the best in the world, but can he get off to the hot start he had in 2015 with a win at the Masters?
Note: Spieth has played in the Masters three times. How did he do?
T2.
WON.
T2.
Not too bad, huh? Seems likes Augusta likes Jordan.
Will Rory McIlroy get the grand slam?
Maybe one of the more overlooked stories now, Rory McIlroy has the chance to claim the grand slam with a win at the Masters this year. Due to injury, he didn't get to play in some of the year's earlier tournaments. However, he came back ready to play.
In just four tournaments, he has three top-10's and two top-5's. Rory's on top of his game and has a good chance to come to Augusta and dominate.
Dustin Johnson is on fire
DJ won all three of his last starts, and is holding the #1 spot in the world like it's no competition. He hits it long, he's accurate, but does he have the game to win at Augusta? He's a clear favorite to be in contention and nobody would be surprised if he was wearing the green jacket at the end of the week.
Justin Thomas - a good start
Justin Thomas had one of the best starts of the season, winning both tournaments in Hawaii and adding a lump sum to his bank account. What has he done since then?
He's got a scoring average of 69 thus far and has moved into the 7th spot in the OWGR. Just this season, he has 3 wins and 5 top-10's, meaning he definitely shouldn't be overlooked when it comes to the Masters.
The unofficial start of golf season
With the Masters comes April, and with April comes Spring. For some, it's a mild winter where you might be able to play a round or two. For others, they have been waiting months on end to get back on the golf course. No matter where you are, this time of the year is one of the best times when it comes to playing golf.
Golf North Texas exists to help you play more golf for less money. A membership to Golf North Texas costs only $4.99/month, and with that you get discounted tee times with no booking fees. With those discounts, your membership pays for itself in only one or two rounds.
Head over to golfnorthtexas.com to see more about what we do and why we think you should be a part of it, and enjoy one of the best weeks of the year!